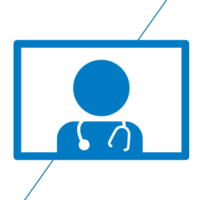 This recording originally took place on 27 February 2018.
You will be sent the recording, presentation slides and certificate once payment has been made. The webinar recordings will only be available to view until Thursday 28 February 2019.
BUY NOW
Individual fee £35 or all 3 webinars in the series for £99
Audience: GPs (all grades)
What will this session cover?
In this webinar, expert speaker Mike Kirby will present on the effects of falling testosterone levels, the feasibility in primary care of identifying men who are symptomatic and proven to be testosterone deficient as well as treatment management and follow up.
Men's Health: Testosterone, is there really a male menopause?
Testosterone is the principal androgen in men. It is essential for the development and maintenance of secondary male characteristics. When testosterone levels fall, patients may experience physical and psychological effects, which can compromise their general well-being, sexuality and fertility. Testosterone Deficiency (TD) is a well-established and significant medical condition. It is defined as a clinical and biochemical syndrome associated with advancing age and comorbidities, characterised by a deficiency in serum androgen levels, (with or without reduced genomic sensitivity to androgens), AND relevant signs and symptoms.
Estimates regarding the prevalence of TD vary widely. The European Male Aging Study (EMAS) evaluated over 3000 men aged 40-79 years according to biochemistry and symptoms. Results showed an overall prevalence of 2.1% in men aged 40-79 years and rates of 0.1% in 40-49 year olds, 0.6% in 50-59 year olds, 3.2% in 60-69 year olds and 5.1% in 70-79 year olds (where the syndrome of TD included at least 3 sexual symptoms associated with a total testosterone (TT) level <11nmol/L and a free testosterone (FT) level <220pmol/L. However, 75% of men maintained normal testosterone levels into old age, suggesting that TD is not merely a function of aging. The prevalence of secondary TD was 11.8%, with 2% having primary TD and 9.5% having compensated (subclinical) TD, worthy of observation but not treatment with testosterone.
TD is more common in older men and those with obesity, comorbidities and poor health status.
T Therapy is evidence-based, effective and safe, and treatment-related sustained normalisation of serum testosterone levels is probably associated with reduced mortality.
However, whilst the multiple benefits of T Therapy are highly relevant to the patient, they are often underestimated by medical practitioners. Because sexual dysfunction is often multi-faceted in nature, the treatment of men with sexual desire, arousal and ejaculation problems should be individualised and may include T Therapy, erectogenic agents and psychosexual therapy.
Until a definitive well-powered long-term study is published, treatment of TD with T Therapy should be guided by the best available evidence. The 2018 BSSM guideline will be presented with relevance to the prescription of testosterone and monitoring of appropriate men, in Primary Care in the UK.
Benefits
CPD Certificate of participation
Booking this webinar will give you a 10% discount for BMJ Learning
 Flexible distance learning

 Watch in your own time
 1 CPD hour
 Includes speaker presentation slides

Dr Mike Kirby
GP, Letchworth, Hertfordshire, and Visiting Professor
Michael Kirby has been a GP and vocational trainer in Letchworth, Hertfordshire 1973- 2008. He was the Director of HertNet (The Hertfordshire Primary Care Research Network) 1998-2008. He is currently, Visiting Professor to the Faculty of Health and Human Sciences at the University of Hertfordshire and attending physician to the Prostate Centre, London. He qualified at St Mary's Hospital, London before working as a Cardiology Registrar, and subsequently Hospital Practitioner at the QEII Hospital, Welwyn Garden City, Hertfordshire. He is a Fellow of the Royal College of Physicians, an Associate Member of the British Association of Urological Surgeons and a member of the Institute for Diabetes in Older people. He is Editor in Chief of the Primary Care Cardiovascular Journal, and his other editorial responsibilities include, the British Journal of Diabetes and Vascular Disease, the British Journal of Cardiology, Geriatric Medicine, Trends in Urology and Men's Health and the International Journal of Clinical Practice. He also holds membership of several NHS advisory boards. He has published more than 400 clinical papers and 30 books. His special interests include cardiology, diabetes, osteoporosis, men's health, urology, and education. When away from work he can be seen cycling the lanes of Hertfordshire.