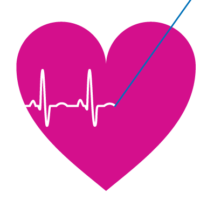 Palpitations:
Who to reassure, investigate or refer

This webinar originally took place on 21 June 2017. All information was correct at the time of recording.
You will be sent the recording, presentation slides and certificate once payment has been made.
Buy Now
Purchase all 3 webinars in the series for £100
Details
Audience: GPs (all grades)
Why is it important?
You will see lots of people with palpitations
Arrhythmias affect 700,000 in England
Palpitations are usually benign but may be a symptom of important underlying cardiac disease
AF affects 4% of people over 65
There are red flags you need to be aware of
What will this session cover?
In this interactive session, our expert speaker, Dr Angus Nightingale, will give practical advice on how to manage patients with palpitations and who to reassure, investigate or refer. The case-based format to address:
What are the common causes of palpitations in 10 care?
Who needs investigation or referral?
What are the red flags I need to look out for?
How to manage AF, flutter and ectopic beats?
Learning outcomes
Understand the differential diagnosis of palpitations in 10 care
Know how to investigate palpitations
Recognise which patients need referral
Become more confident in managing AF, flutter and ectopic beats
The webinar will include interactive case studies, Q&A and links to useful resources.
Benefits
CPD Certificate of participation
 Booking this webinar will give you a 10% discount for BMJ Learning
 Flexible distance learning

 Watch in your own time
 1 CPD hour
 Includes speaker presentation slides

Dr Angus Nightingale
Consultant Cardiologist, Bristol Heart Institute, Bristol
Cardiology
Angus Nightingale is a Consultant Cardiologist at the Bristol Heart Institute where he leads the Heart Failure and Hypertension Service. After completing his training in Cambridge, Bristol, Cardiff and Oxford in 2003 he left the UK for a Consultant post in Adelaide, Australia; hurriedly returning to Bristol when his children wanted to play cricket for Australia! He is involved in research in hypertension and heart failure looking at novel ways to reduce sympathetic activation. He is passionate about teaching and is most proud of innovative illustrations (such as using washing up gloves to understanding the pathophysiology of heart failure)!