BMJ Masterclasses partnered with Fondazione Internazionale Menarini, supporting access to vital cancer care education with the Oncology Webinar Series.
This free-to-attend course provided generalist and trainee oncology healthcare professionals with the knowledge to treat and diagnose their patients according to the latest updates and best practices.
Watch the recordings to hear expert speakers deliver the latest peer-reviewed lung, colorectal and pancreatic cancer evidence. Each session featured two presentations covering the advancements in treatments and management of each cancer condition.
This webinar series was supported by an unrestricted medical educational grant by the Fondazione Internazionale Menarini for scientific education purposes. BMJ maintained full editorial independence on the content and delivery.
Read the key summaries whitepaper or watch the recordings on demand.
Read the Oncology Webinar Series key summaries whitepaper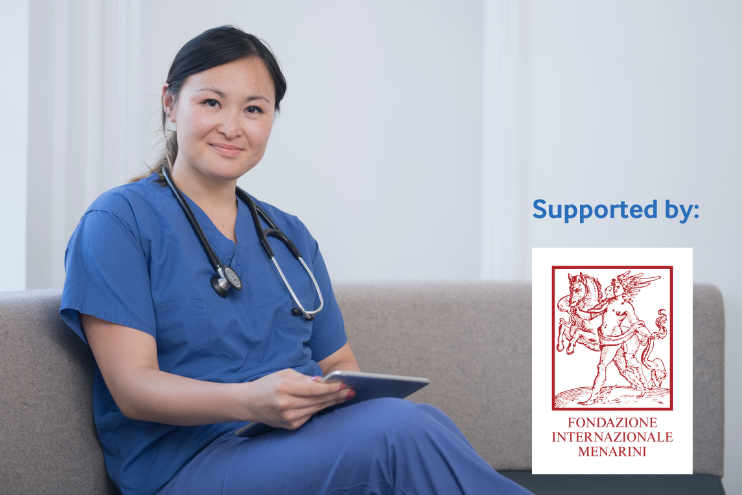 Part one: Colorectal cancer
According to BMJ Best Practice, colorectal cancer is the third most common cancer in the developed world. In the past twenty years, there has been a significant increase in the incidence of younger adults developing the disease. Part One of the Oncology Webinar Series provides frontline clinicians with a comprehensive overview of the latest in diagnostics and management of colorectal cancer, as well as updates on treatment options and side effects.
Speakers:
Edward J. Despott, Consultant Gastroenterologist & Interventional Endoscopist, The Royal Free Hospital & The Wellington Hospital
Anthony Cunliffe, National Lead Medical Advisor, Clinical Advisor, Macmillian. Joint Clinical Director for the South East London Cancer Alliance and the Oncology Lead at ORCHA
Discussion points:
The challenges of diagnosing colorectal cancer early in Primary Care Colorectal Cancers presenting in people at an earlier age and how this risk can be best managed
Identifying late effects of colorectal cancer treatment and ensuring early and holistic management.
Updates on advances in immunotherapy and adjunctive therapies.
Diagnosis and management of emergency patient presentations
'Endoscopic early detection and minimally-invasive management of colorectal lesions: The state of the art', with a focus on early detection and prevention of colorectal cancers.
Part two: Pancreatic cancer
Symptoms and signs of pancreatic cancer are often vague, which makes it hard for frontline clinicians to diagnose. Part Two of the Oncology Webinar Series provided delegates with expert-led presentations covering the latest updates, best practice and treatments on pancreatic cancer.
Speakers: 
Hemant Kocher, Professor of Liver and Pancreas Surgery, Centre for Tumour Biology, Co-Lead, Cancer Screening & Early Diagnosis, Barts Cancer Institute
Fieke E M Froeling, Clinical Senior Lecturer and Consultant Medical Oncologist, Wolfson Wohl Cancer Research Centre and Beatson West of Scotland Cancer Centre, School of Cancer Sciences, University of Glasgow
Discussion points:
Symptoms, signs and diagnosis of pancreatic cancer
Are there biomarkers for early diagnosis of pancreatic cancer?
Recent advances and clinical trials for early diagnosis of pancreatic cancer
Recent advancements in the management of pancreatic cancer
Part three: Lung cancer
There have been massive changes in radiotherapy and the systemic treatment of lung cancer. Part Three of the Oncology Webinar Series provided delegates with the latest updates, best practice and treatments for lung cancer.
Speakers: 
Kathryn Banfill, Clinical oncology consultant Cardio-oncology, The Christie NHS Foundation Trust
Ashling Lilis, Consultant in Acute Medicine, Whittington Health NHS Trust, National Clinical Advisor, Macmillan Cancer Support
Discussion points:
Curative radiotherapy for lung cancer, including recent advances
Adjunctive systemic treatment given in addition to radiotherapy
Molecular pathology in lung cancer
Radiotherapy in metastatic lung cancer
How to explore the data around outcomes for patients with lung cancer who access urgent care
How to share resources and information about assessing acutely unwell cancer patients for non-cancer healthcare professionals